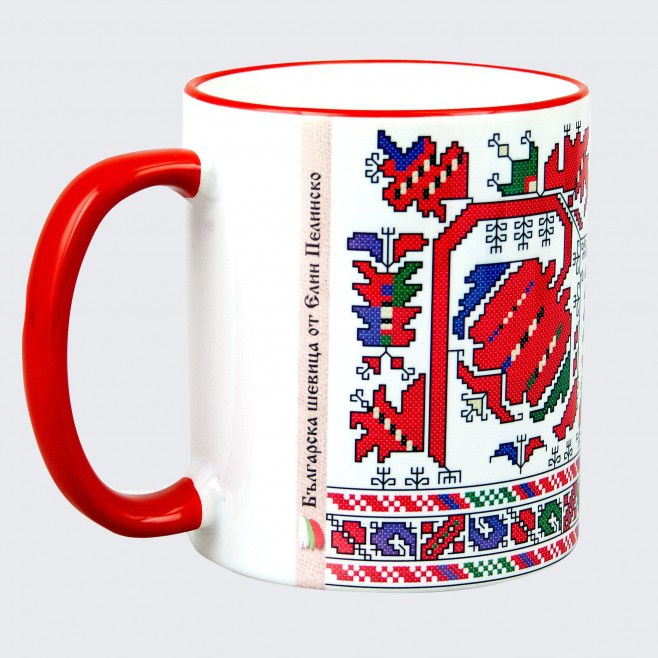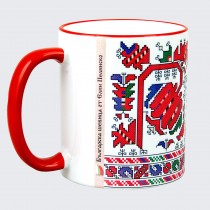 Cup with embroidery from Elin Pelin (Shopski Folklore Region)
Stock:

In Stock

Model:

292000-08

Weight:

0.40kg

Dimensions:

10.00cm x 10.00cm x 10.00cm
A beautiful ceramic mug decorated with a motif from the Elin Pelin Region - Apples.
A gift that will fill your day with inspiration and colors. Great gift for a big or small occasion, for family and friends. A wonderful gift for a foreigner for souvenir - a warm memory from Bulgaria.
Product details:
Product dimensions: h = 10 cm, u = 8.5 cm
Volume: 330 ml
Composition: Ceramics
Color: White cup with red handle and edge
High quality printing, made with health-safe inks, resistant in dishwasher.The model was taken from the Folklore Album, made by Rositsa Chukanova of "Bulgarian Artist" Publishing House, Sofia 1957, reprinted in 2017 by G. Markov, "Heritage BG". An emblematic for the region embroidery known as "Pomegranates" or "Apples" - a clear proof of the creative genius of the Bulgarian woman.
Cups
Cups with embroidery